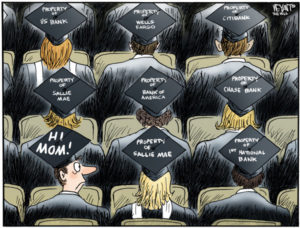 The statistics about student debt are staggering. 70% of 2016 college graduates had student loan debt. Americans owe a total of $1.3 trillion in student loans. We have talked about it before but when so many Millennials are affected, the impact on achieving goals can be substantial. However, I'm not here to be the party pooper. I am here to guide you so you can achieve the great things in life.
So, what can you do about your student loan debt?
Knowledge is power – You should know who you owe money to (government or private loans), how much you owe and the interest rates. Also know what your income is and how much of that you can allocate to paying off the debt.
Consider your options – There are federal debt consolidation programs which allow you to bundle you federal loans into one with an interest rate that is a weighted average of your rates. This option could have a longer term depending on how much you owe which could lead to paying more interest. The government also has income-driven repayment options. Your payments are a percentage of your income but this may extend the term of your loan. However, be careful that you don't use them as a crutch. They can actually cause balances to increase. There are private lenders who will refinance student loans such as SoFi and even some private banks. If you have a good credit score and a low debt-to-income ratio you may qualify for a loan with a lower interest rate, but by refinancing federal loans with a private lender you may give up some borrower protections that the government provides. Some employers offer ways to decrease the amount employees owe on student loans. And a few credit card companies allow customers to use reward points to repay student loans. Carefully research all your options so that you understand the pros and cons of each.
Take action – After you review all your options, decide what's right for you. This may mean having to choose between accelerating student debt payments, saving for a home or saving for retirement. Prioritize what is most important. Be honest and realistic with yourself. The sooner you have control over your debt, the sooner you can move on to bigger and better things.
Finally, a word of caution. I hate to see so many Millennials faced with such large amounts of student loan debt look to other sources for short-term funds such as pawn shops and payday lenders. Be cautious and know that although this process doesn't hurt your credit record, there are fees and out of control interest rates associated with it. I'd stay far away. Look to other options such as family or a loan from a 401(k) if possible. Just like with student loan debt, know your options and be in control.
Related Articles:
[Nerd Wallet] 4 Student Loan Tips That Could Backfire
[Investment News] Financial Advisers Help Clients Graduate From Student Debt
[Reuters] Facebook Live Debt Chat
[Reuters] Why Are Millennials Tapping Payday Loans and Pawn Shops?