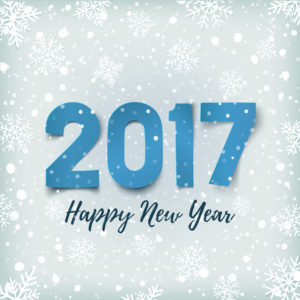 You might remember my article on DailyNews.com "Revisiting Tips for a Financially Empowered New Year," where I told you I wasn't the biggest fan of resolutions. Oh, yeah, and I let you call me a New Year's party pooper? That's still a true statement (not the party pooper part), but I'm never opposed to you making more and better financial strides.
If you're like most people, you probably felt like this year was going to be your year financially. And then, reality hit. You suddenly found yourself more behind than ahead. Now that 2016 has ended, you're wondering "how I can start anew in 2017, Douglas?"
Great questions! Glad you asked!
You can start by avoiding the following financial goal-setting mistakes for 2017.

Setting Unrealistic Goals
I'm not one to tell anyone they can't shoot for the stars, especially with the coming of a new year. In fact, I encourage it. But when it comes to finances, setting your goals too high can bite you in the butt. 2017 is definitely the year to get yourself back on track. However, if you have, say, $25,000 in credit card debt and set a goal to pay it all off within 12 months while making around $30,000–$40,000 annually, you might want to reevaluate (unless you come into a large sum of money suddenly). Setting too lofty a goal for your current financial situation may be more of a hindrance than help.
Setting Too Many Goals
As hard as it is to admit, you can't do everything. When you see yourself spinning out of control with the amount of things you want to accomplish, it's always a good idea to set around 2-3 financial goals you know you can tackle in a few months or the year. Don't get me wrong, it's important to brainstorm a long list of potential goals, but the key is narrowing them down and ranking them from most important to least important.
Setting "Negative" Goals
When you're setting your goals, think about what you're really trying to accomplish. What's your bottom line? And also consider what kind of emotions these goals are bringing out in you. Are you feeling overwhelmed? Are these goals causing stress and arguments among family members? If so, maybe it's time to re-frame that specific goal so that it can be achieved in a more positive way.
2016 might have been a "Money or Bust" kind of year, but 2017 doesn't have to be. I know, my unwavering optimism is sickening sometimes, but I suspect that one of the main reasons you're not making much headway financially is because you're making some of the aforementioned goal-setting mistakes. Don't worry, you'll get through it and I'll be right here to cheer you on all the way!
Related Articles
[New York Daily News]  Money Pros: Make Sound Financial Choices for the Years Ahead
[NY1]  VIDEO: How to Set Financial Priorities and Develop an Action Plan

[New York Daily News]  Money Pros: How To Use 'Goal Priority' to Save When You Have More Than One Financial Goal