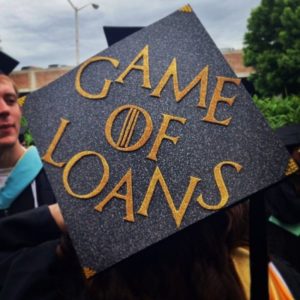 Time to show my younger Millennials some love. I am talking to you my college freshman and sophomores. If you're like most of my high achieving clients, you made it through high school unscathed. You graduated with good grades (or honors), and did everything "right": student council, volunteering outside of school or joining every club conceivable so you look more desirable to college admissions. Luckily, you earned a scholarship to pay for some parts of your education, but not all. Then, a student loan company came a knockin' at the door and you answered enthusiastically, thinking, "I'll have plenty of time to pay this off! Sign me up!"
What you didn't realize was the loan comes due typically six months after you graduate, not a couple years like you convinced yourself it would. You probably should have read that award letter a little bit more carefully. Nevertheless, here you are, trying to land your dream job (with a few good prospects, but nothing concrete), and pay off your student loan debt that you now regret ever taking out. The Bank of Mom and Dad is closed for business indefinitely because, per them, they've done their part by letting you stay at home free of charge. So, where's your solace? Reprieve?
There are a lot of tips floating around the internet promising to help you navigate paying off your student loan debt fast, but sometimes, those tips sometimes leave you with more questions than you had before you started.
Here are the student loan questions!

Should I consolidate or refinance?

I think it was my man Shakespeare who said it best, "to consolidate or refinance, that is the question." Okay, maybe he didn't say it quite like that. But its a very important question to ask yourself. The answer is: it depends on your loan terms whether one would work better than the other. Consolidation allows you to combine your federal loans into a single loan. Refinancing your loans, on the other hand, could help you get better loan terms with another lender.
Should I switch my repayment program?

Struggling to pay bills isn't fun, but it's the reality for many Millennials. However, struggling to pay bills on top of student loan debt is just downright cruel and something that can rob us from achieving the great things in life. For many new graduates, an income-based driven repayment plan may be a good option because you might not have a job working in your field right out of college.
With this option, according to USA Today College, "it caps payments at a percentage of your income and extends your loan term to 20 or 25 years. If you have any balance left over after that, it's forgiven. The caveats are: you have to reapply annually and any debt forgiven will be taxed as income. Moreover, this option should be used as a crutch and not a permanent solution to dealing with your student loans.
Do I have to take the full loan I'm awarded?
Hey, I'm not one to tell you to pass up money…if the money is a grant or being given as a gift. However, student loans are a whole other story. For those ready to enter college, if your school expenses exceed what you're able to pay, it may be beneficial for you to take the full loan amount awarded to you. USA Today College says, "When you get your financial aid award letter, carefully consider the terms of your loan offers and reject any that you don't need. Unsubsidized loans should be the first to go; they accrue interest while you're in school, so the cost of borrowing those is higher than it is for subsidized loans."
With student loan debt, there's always risk. You may have mapped out paying back any loans you acquire, but life can throw you some curve-balls, completely derailing the plans you made. Funny how that works. Keep in mind, minimizing the amount of debt you leave school with will help you in the long run, so consider all your options before taking the plunge and regretting it in the long run. 

Related Articles:
[InvestmentNews] More Than Half of the Student-loan Borrowers Regret Going Into Debt
[CNBC]  Don't Rush to Refinance Your Federal Student Loan Debt
[CNN Money] How One Grad Cut Her Student Loan Debt by $20,000
[ThinkAdvisor]  5 Steps to Help College Graduates With Student Debt
[CNBC]  VIDEO: Smart Strategies to Help Millennials Pay off Debt
[CNBC]  VIDEO: Millennials & Money: Student Debt Ripple Effect