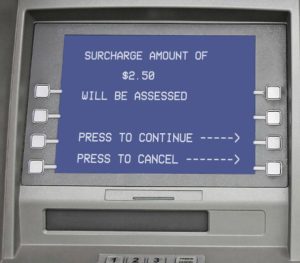 Have you ever wondered, "how can I avoid these pesky ATM fees?" Some people would probably tell you pondering the meaning of life would be less taxing than trying to figure out how to avoid ATM fees. In fact, Americans are inadvertently helping banks make a small fortune in just ATM fees alone.
In 2016, you have a pretty good chance of getting smacked with two types of ATM fees: out-of-network withdrawal fees and non-customer withdrawal fee.
If you want to learn how to dodge ATM fees, follow me. I won't steer you wrong!
1. Upgrade that checking account – You not have heard of this, but you may be able to upgrade your checking account for keeping a minimum balance. My banks requires a minimum of $3,000 in my checking account. With this option, you could possibly use any ATM you want and the bank will reimburse you for any ATM fees. So, if you're good about keeping a particular amount in your account, talk about your bank about any programs they might have that could potentially save you hundreds in ATM fees annually.
2. Use your investment account – For those of you that have non-retirement accounts, this tip is for you, so listen up! You'll want to check with your financial institution to see if they have a debit card feature. Having a debit card that is linked to your non-retirement account, as well as using it for primary checking, could potentially open up your account to a larger network of ATMs.
3. Get cash from the grocery store – This sounds kind of old fashioned, I know. But your grandparents are probably a lot more financially savvy than you give them credit for. You know when you're checking out at a major grocery store and you're given the option for cash back? If you've never utilized this feature, you're completely missing out and probably wasting tons on ATM fees. And the great thing about this option is you don't have to purchase a full list of groceries. If you had planned to buy a pack of gum anyway, why not take $20 or $40 out at the same time? All you have to do is use your debit card when buying an item for this feature to become available to you.
There you go! That's all the wisdom I have to give today. But, if you ever have any questions, I want to hear from you. I love helping people. It's kind of the thing I do best.
Now, go forth, withdrawal without fees and be merry.
Related Articles: