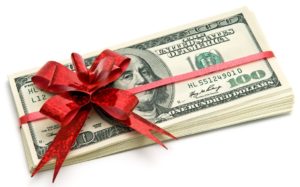 The holidays can be a wonderful joyous time or a very stressful time. For many the stress of the holidays comes from shopping for gifts for loved ones.  According to a GoBankingRates survey, about 57% of people plan to spending one full paycheck on the holidays. That's an average of $1,908 for someone paid every two weeks.  That's a lot of money for the average American to spend at the holidays and I have a suspicion that it isn't really in the budget for most.  I think that most people probably spend more than they should on the holidays because they don't have a good handle on their budget to know what the really can spend.  Not being disciplined about cash flow can cause people to eat into funds that should be earmarked for emergency savings. If working on a budget isn't going to happen this holiday season, here are some tips to get by in the meantime. However, come the new year, put "creating a budget" on your resolution list!
Tips to Survive the Spending Season
Look for Deals.

If you missed the Black Friday deals, know that as we get closer to the end of the year, more sales might start appearing. Retailers may be looking to move excess merchandise before the end of the year so keep your eyes open.

Shop Smart.

As fun as it is to browse the aisles looking for something to jump out at you for that one family member, knowing what you are shopping for may be a better strategy.  If you know exactly what you are going to buy for Mom, then you may be less likely to overspend on something else.  Also, if you are shopping for big tech items like a laptop or TV, do your research.  Don't just buy it because it's a good deal if the product itself isn't right for your needs.

Don't procrastinate

.  Well, if you are reading this and celebrate Chanukah, you are almost out of time (I hope you have Amazon Prime!). But for those shopping for Christmas, time to shift into overdrive.  With Christmas Eve falling on Sunday this year, the stores are going to be a madhouse on that Saturday with last minute shoppers.  Shop at your own risk on that day!

Set Family Expectations

. If you worked hard on a budget this year and are cutting back on gifts, be upfront with your family.  Let them know that you are trying to save for your financial goals, so gifts will be smaller.  Don't worry if some family members are disappointed. They will get over it and shouldn't be focusing on gifts anyway!  You will be happier in the long run knowing that you stuck to your budget.
Related Articles
[AOL] Majority of Americans will Blow at Least 1 Paycheck on the Holidays
[Nerd Wallet] Bust or Bargain? 5 Secrets to Black Friday Shopping Success
[Chicago Tribune] How to Tell Your Family You're Spending Less on Holiday Gifts